Overview
THE SIX ELEMENTS ORTHODONTIC PHILOSOPHY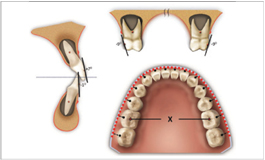 ELEMENT I
Optimal Tooth and Arch Characteristics
An arch is optimal when: the roots are centered over basal bone, the crowns are inclined so the teeth can interface and function optimally, the Curve of Spee is between 0 and 2.5 mm, the contact areas abut, and skeletal maxillary width is in harmony with skeletal mandibular width (Element III).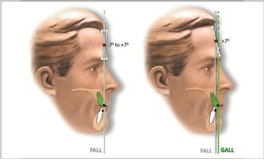 ELEMENT II
Optimal Anteroposterior (AP) Jaw Positions
The AP position of the maxilla is optimal when the FA points of Element I maxillary incisors are on the Goal Anterior Limit Line (GALL). Mandibular AP position is optimal when it is in centric relation, the incisors are Element I and they interface optimally with Element I incisors in an optimal maxilla.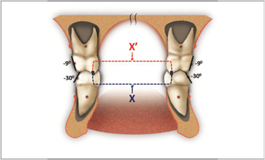 ELEMENT III
Optimal Jaw Widths
Mandibular width is naturally optimal for most individuals. Maxillary width is optimal when the distance (X' mm) between the mesio-lingual cusp tips of Element I maxillary first molars is equal to the distance (X mm) between the central fossae of the Element I mandibular first molars.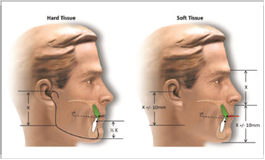 ELEMENT IV
Optimal Jaw Heights
Jaw heights are optimal when: the tooth positions are Element I, the middle anterior, lower anterior, and posterior face heights are equal, the maxillary incisors' FA points are level with the lower border of the upper lip in repose, and the occlusal plane is in harmony with function and esthetics.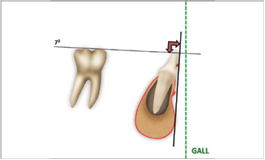 ELEMENT V
Optimal Chin Prominence
Chin prominence is measured independently AP of jaw position. Assuming normal soft tissue thickness, chin prominence is optimal when pogonion point matches the prominence of the FA points of Element I mandibular incisors.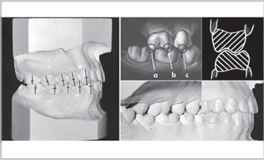 ELEMENT VI
Optimal Occlusion
Optimal occlusion involves: the Six Keys to Optimal Occlusion*, Element I teeth and arches, and the Element II, III, and IV jaw positions. Collectively, these are the characteristics of an esthetic, functional, and healthy occlusion.